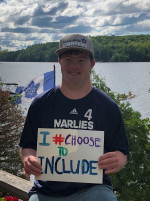 What Special Olympics sports do you participate in?
Basketball, Swimming, Downhill Skiing and Baseball
What is your happiest/proudest Special Olympics memory?
When my Etobicoke Stingers Basketball Team won first place at the Toronto Special Olympics Basketball Tournament.
How do you like to spend your time outside of Special Olympics (jobs, hobbies, activities, etc)
I work for the Toronto Marlies Hockey Team's Equipment Staff. I love my job and hockey! In the summer I enjoy golfing, waterskiing and pickle ball. I have just started to paint with watercolours and really like it!
What do you love most about motionball events?
motionball is my favourite event of the year! I was very sad when it was cancelled in May. Now I can't wait for the virtual motionball on September 26th! It is the people that participate each year in motionball that has make it so extra special for me. They are fun, kind and always include everyone!