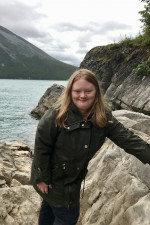 What Special Olympics sports do you participate in?
Floor Hockey, Basketball and Bowling
What is your happiest/proudest Special Olympics memory?
Competing in Canadian Games in Track and Field
How do you like to spend your time outside of Special Olympics? (jobs, hobbies, activities, etc)
I work at ATB in downtown Calgary. I like crafts. I like country music. I like to go to concerts and sports games like football.
What do you love most about motionball events?
I like to meet new people!