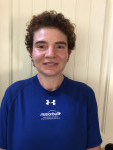 What Special Olympics sports do you participate in?
Track and Field, Bocce, Powerlifting, Alpine Skiing and 5-pin bowling
What is your happiest/proudest Special Olympics memory?
When I was a member of Team Canada for the 2017 World Winter Games in Austria competing in Alpine Skiing. I earned a 6th place and a Silver medal!
How do you like to spend your time outside of Special Olympics (jobs, hobbies, activities, etc)?
Reading, walking, following a daily fitness plan, playing with my pets, and volunteering at a cat shelter and the seniors' activity centre
What do you love most about motionball events?
Meeting new people and team unity