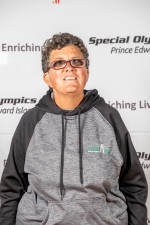 Meet Heidi, a Special Olympics athlete who represents the 50,000 Canadians with an intellectual disability who participate in Special Olympics programs. Your support is ensuring athletes like Heidi can get back to the playing field, and that no one is left behind.
What Special Olympics sports do you participate in?
The sports I participate in are golf, bocce, 5pin bowling and snowshoeing.
What is your happiest/proudest Special Olympics memory?
My happiest/proudest memory is attending the National games in Thunder Bay and Vancouver BC. Also, being part of TEAMPEI and making new friends.
How do you like to spend your time outside of Special Olympics (jobs, hobbies, activities, etc)?
Some of Hobbies and activities I like to do are listening to music, going for long walks, and visiting friends and family. I often visit seniors who live alone and do errands. In the Summer I enjoy going sailing on boats and swimming in pool.
What do you love most about motionball events?
Meeting new people and making new friends as well as help promote Special Olympics.