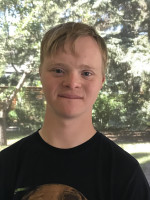 What Special Olympics sports do you participate in?
Swimming, snowshoeing, basketball
What is your happiest/proudest Special Olympics memory?
When I got 3 medals at Snowshoeing's Provincials
How do you like to spend your time outside of Special Olympics (jobs, hobbies, activities, etc)?
I work at IGA Lakeview, I attend DDRC, I volunteer for UPS and Downs, and I ride my bike a lot.
What do you love most about motionball events?
Teamwork and sportsmanship