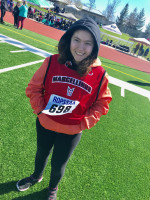 Meet Melissa, a Special Olympics athlete who represents the 50,000 Canadians with an intellectual disability who participate in Special Olympics programs. Your support is ensuring athletes like Catherine can get back to the playing field, and that no one is left behind.
What Special Olympics sports do you participate in?
I partake in Bocce and Track & Field with my high-school Special Olympic Events
What is your happiest/proudest Special Olympics memory?
I love partaking in the different tournaments that take place at my high school because it gives me a chance to see my Special Olympics friends that attend different schools. I like to cheer on my friends!
How do you like to spend your time outside of Special Olympics? (jobs, hobbies, activities, etc)
I LOVE dogs! I also like taking skating lessons and playing soccer. My favourite game to play is Connect4!
What do you love most about motionball events?
I had so much fun meeting new people at the motionball McMaster event and playing bench-ball with my team.