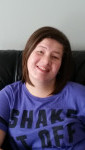 What Special Olympics sports do you participate in?
Softball and floor hockey
What is your happiest/proudest Special Olympics memory?
Winning an award at the 2019 Special Olympics Banquet for Softball
How do you like to spend your time outside of Special Olympics (jobs, hobbies, activities, etc)
Working at Pita Pit, hanging out with friends and fundraising for the Kingston food bank
What do you love most about motionball events?
Being apart of a team and being myself