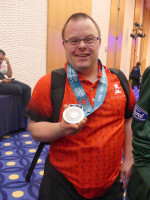 Meet Neil, a Special Olympics athlete who represents the 50,000 Canadians with an intellectual disability who participate in Special Olympics programs. Your support is ensuring athletes like Neil can get back to the playing field, and that no one is left behind.
What Special Olympics sports do you participate in?
floor hockey, baseball, curling, bocce ball, 10 pin bowling, 5 pin bowling, did alpine ski racing for 14 years, soccer for 10 years
What is your happiest/proudest Special Olympics memory?
Competing in Winter and Summer Provincials in soccer, baseball, bocce, skiing and curling. Competing in Summer Nationals in soccer and bocce, and Winter Nationals in Floor Hockey (ThunderBay Feb2020). Competing in bocce for Team Canada at the World Games in Abu Dhabi in March 2019
How do you like to spend your time outside of Special Olympics?
I do volunteer jobs at the YMCA, our local Food Bank, and I help prepare food for a downtown soup kitchen held at the Church. I like to travel with my family and we have been many places together all across Canada and the USA, (including Alaska) the Caribbean and Dubai/Abu Dhabi. I love to ski with my family in Alberta, BC and New Hampshire and Vermont. I like to go biking with my family on many rail trails. My sister is teaching me how to do the Mountain Bike trails she goes on. I like hanging out with my friends. I like doing social activities with my sister and her friends. I like to go camping, canoeing, fishing in the summer with my family.
What do you love most about motionball events?
I love to meet all the players on my team and make new friends. I love to compete and help our team win. I love to listen to the loud music! I REALLY REALLY like to win all our competitions. Its fun being with people my own age and doing stuff together.