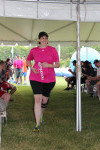 Meet Natalie, a Special Olympics athlete and SONS Board Member, who represents the 50,000 Canadians with an intellectual disability who participate in Special Olympics programs. Your support is ensuring athletes like Natalie can get back to the playing field, and that no one is left behind.
What Special Olympics sports do you participate in?
Swimming and Curling!
What is your happiest/proudest Special Olympics memory?
Nova Scotia Flag barrier at 2014 National Games Games in Vancouver; Special Olympics Unified Game Participant at 2016 NBA Allstar Weekend in Toronto - I took the tip off with Steph Curry! 2018 Global Athlete Congress in Dominican Republic- Canadian delegate!
How do you like to spend your time outside of Special Olympics? (jobs, hobbies, activities, etc)
Baristas at Starbucks. Enjoy swimming, walking and learning to play guitar!
What do you love most about motionball events?
Making new friends and playing sports!