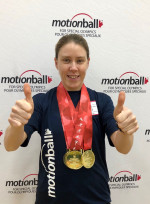 Meet Catherine, a Special Olympics athlete who represents the 50,000 Canadians with an intellectual disability who participate in Special Olympics programs. Your support is ensuring athletes like Catherine can get back to the playing field, and that no one is left behind.
What Special Olympics sports do you participate in?
Track, Golf, and Snowshoeing
What is your happiest/proudest Special Olympics memory?
Winning gold at the Special Olympics World Games on Canada Day in Athens Greece in 2011 for the 100m sprint.
How do you like to spend your time outside of Special Olympics? (jobs, hobbies, activities, etc)
I usually work two days a week at JYSK (I haven't been working due to COVID-19). I volunteer with Active Start and FUNdamentals Special Olympics children and youth programs. I do spin class, yoga and weight training at the Abilities Centre. I like spending time with my family and playing golf with my dad.
What do you love most about motionball events?
I love dressing up to go to the Galas, I love meeting new people and I love the new games that we play at Marathon of Sport. I also love my weekly motionball Zoom meetings, staying in touch with motionball volunteers and other Special Olympics athletes.