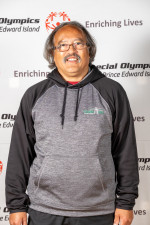 Meet Tommy, a Special Olympics athlete who represents the 50,000 Canadians with an intellectual disability who participate in Special Olympics programs. Your support is ensuring athletes like Tommy can get back to the playing field, and that no one is left behind.
What Special Olympics sports do you participate in?
Competitive sports, winter is Nordic Skiing, summer is Bocce Ball. I also participate in 5 pin bowling and athletics
What is your happiest/proudest Special Olympics memory?
I am happy when I participate in any Special Olympics sport and I do my best, especially when I successfully make it down hill in nordic ski race.
How do you like to spend your time outside of Special Olympics (jobs, hobbies, activities, etc)?
I enjoy baking cakes, doing puzzles on my Ipad. I walk Monday to Friday, depends on the weather, for 2 hours.
What do you love most about motionball events?
Trying different sports that I never tried before.