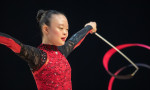 Meet Kimana, a Special Olympics athlete who represents the 50,000 Canadians with an intellectual disability who participate in Special Olympics programs. Your support is ensuring athletes like Kimana can get back to the playing field, and that no one is left behind.
What Special Olympics sports do you participate in?
Rhythmic Gymnastics
What is your happiest/proudest Special Olympics memory?
The opportunity to represent Canada and meeting many athletes from other countries in 2019 Special Olympics World Games Abu Dhabi where I won 7 gold metals in Rhythmic Gymnastics.
How do you like to spend your time outside of Special Olympics? (jobs, hobbies, activities, etc)
I enjoy school and I am preparing to go to college next year. I look forward to returning to co-op (when it is safe) at Shoppers Drug Mart and at Parliament Hill. My hobbies are ballet, down hill skiing, and following the beauty industry.
What do you love most about motionball events?
Enjoying a fun filled day of sport, being welcomed and encouraged by my team and feeling included is what I love about motionball. It is also an opportunity to see many friends and volunteers from Special Olympics.