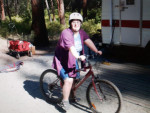 Meet Teresa, a Special Olympics athlete who represents the 50,000 Canadians with an intellectual disability who participate in Special Olympics programs. Your support is ensuring athletes like Teresa can get back to the playing field, and that no one is left behind.
What Special Olympics sports do you participate in?
Curling, Rhythmic gymnastics, swimming, softball, track and field and club fit.
What is your happiest/proudest Special Olympics memory?
The proudest special olympics memory I have is getting good in standing long jump!
How do you like to spend your time outside of Special Olympics? (jobs, hobbies, activities, etc)
For this whole year of 2020 i have done nothing but fitness burnout extreme - my brother in law gave me a workout schedule and I have been following. I have been going to a kickboxing gym and hit the track and belly dancing workshops and also been riding my bike and practicing swimming in the lake and Zumba too! I have been doing heathy cooking too!
What do you love most about motionball events?
To meet new people and learning new skills!