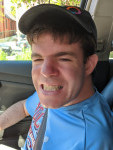 Meet Adam, a Special Olympics athlete who represents the 50,000 Canadians with an intellectual disability who participate in Special Olympics programs. Your support is ensuring athletes like Adam can get back to the playing field, and that no one is left behind.
What Special Olympics sports do you participate in?
Basketball, Soccer, and Baseball
What is your happiest/proudest Special Olympics memory?
There are so many in the last 20 years. I always love to go to tournaments and play, eat and celebrate with all my friends.
How do you like to spend your time outside of Special Olympics? (jobs, hobbies, activities, etc)
I love my job at l'Arche Daybreak where I work in a woodery and a craft studio and I help out in the office and with the day program there. I also play ice hockey with my hockey team. At home, I play my favourite computer games - Jeopardy, Wheel of Fortune - and listen to music on the computer and my tablet music. I like to write out recipes and I like to cook with my mom. I like to type out stories and recipes on my computer. I like going to family events.
What do you love most about motionball events?
Playing the different sports and games and hanging out with my team for the day.