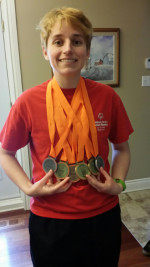 What Special Olympics sports do you participate in?
Track and Field, Snowshoeing and Swimming
What is your happiest/proudest Special Olympics memory?
In Nova Scotia when I was swimming for Quebec.
How do you like to spend your time outside of Special Olympics (jobs, hobbies, activities, etc)?
I work at the Veterans Hospital during the week, and in my spare time, I am an artist..
What do you love most about motionball events?
The competition.