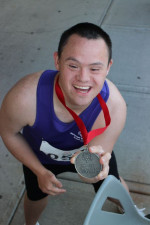 Meet Scott, a Special Olympics athlete who represents the 50,000 Canadians with an intellectual disability who participate in Special Olympics programs. Your support is ensuring athletes like Scott can get back to the playing field, and that no one is left behind.
What Special Olympics sports do you participate in?
Power Lifting, Golf, Bocce, Soccer & Floor Hockey
What is your happiest/proudest Special Olympics memory?
Provincial Games experiences - summer with my soccer team & winter with my floor hockey team.
How do you like to spend your time outside of Special Olympics (jobs, hobbies, activities, etc)?
I enjoy my part-time work at Thrifty's & Shell and also the Rec program through Delta Community Living is fun. During Covid I have started walking and keeping track of my steps almost daily.
What do you love most about motionball events?
I enjoy meeting the people on my team...we always have fun!
P.S. If you are reaching out over email please email both scottfattedad@hotmail.com and marylynncassels@gmail.com