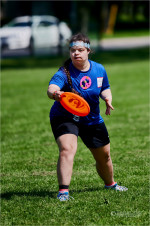 Meet Nicole, a Special Olympics athlete who represents the 50,000 Canadians with an intellectual disability who participate in Special Olympics programs. Your support is ensuring athletes like Nicole can get back to the playing field, and that no one is left behind.
What Special Olympics sports do you participate in?
My main sports are figure skating, rhythmic gymnastics, swimming and golf! My love for figure skating has taken me to three National Winter Games.
What is your happiest/proudest Special Olympics memory?
Winning a gold and silver medal at the 2020 National Winter games in Thunder Bay! My most memorable event is skating in the 'inclusion' Rock the Rink tour with Scott Moir and Tessa Virtue
How do you like to spend your time outside of Special Olympics? (jobs, hobbies, activities, etc)
In the fall, started to volunteer at 5-Star Fitness 3 days a week until Lockdown in Dec. This is where the LOVE of training became her passion. Now she trains at home plus started running to keep fit. Other hobbies include listening to music videos and watch wrestling WWE on YouTube. I also like to spend time writing in my journal.
What do you love most about motionball events?
Being part of a team to make new friends and play the Marathon of Sport. Mostly, I love to come and have fun