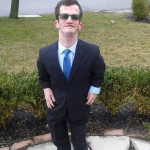 What Special Olympics sports do you participate in?
Golf
What is your happiest/proudest Special Olympics memory?
Meeting new people with various events and attending the provincial games in Peel Ontario
How do you like to spend your time outside of Special Olympics (jobs, hobbies, activities, etc)
Playing video games, working out, talking to my friends online, volunteer work pre covid going for supper to the movies and bowling and attending various sporting events
What do you love most about motionball events?
Meeting new people