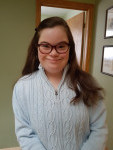 What Special Olympics sports do you participate in?
Rhythmic Gymnastics, bowling and fitness class
What is your happiest/proudest Special Olympics memory?
I love my rhythmic gymnastics competitions and winning ribbons. I also love getting strikes at bowling
How do you like to spend your time outside of Special Olympics (jobs, hobbies, activities, etc)
I like to sing and dance and I play the violin. My dad plays basketball and hockey with me in the driveway. In the summer I swim a lot
What do you love most about motionball events?
This is my first motionball but I did basketball at Western and had fun with the volunteers. They are very fun and nice