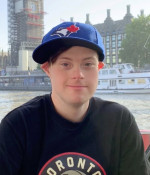 Meet Ben, a Special Olympics Saskatchewan athlete who represents the 50,000 Canadians with an intellectual disability who participate in and benefit from Special Olympics programs. Your support ensures that athletes like Ben can get back to the playing field when it is safe to do so, and that he has the support and resources he needs to stay active at home until then. Here's a little bit about Ben!
What Special Olympics sports do you participate in?
Golf, swimming, basketball, and powerlifting.
What is your happiest/proudest Special Olympics memory?
Going to Western Canada Games in Kamloops, and going to Special Olympics provincials years ago where I met my girlfriend.
How do you like to spend your time outside of Special Olympics?
I am a bus boy at Smittys Market Mall but I was laid off because of the virus. I hope to go back soon. I love music, movies, and seeing my Special O friends (when we are allowed again). I can't wait to spend time with my girlfriend Jillian again and I am proud of her Special Olympics performances.
What do you love most about motionball events?
Seeing my friends and other athletes, and being on a team.