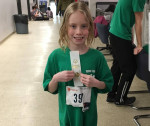 What Special Olympics sports do you participate in?
Basketball and Track and Field
What is your happiest/proudest Special Olympics memory?
When I won a ribbon at my first track meet
How do you like to spend your time outside of Special Olympics (jobs, hobbies, activities, etc)
horseback riding, camping, playing pokemon and yu-gi-oh
What do you love most about motionball events?
They are so much fun and I love friends!