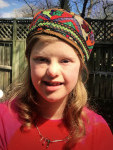 What Special Olympics sports do you participate in?
Competitive Swimming, Soccer, Golf, Fitness
What is your happiest/proudest Special Olympics memory?
Swimming in big swim meets
How do you like to spend your time outside of Special Olympics (jobs, hobbies, activities, etc)
Hutton House online classes, watercolour painting, stitching with embroidery threads, drawing, reading, journal writing, walks, fitness online, singing , dancing
What do you love most about motionball events?
Meeting new friends and playing sports