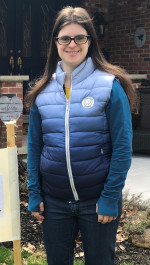 What Special Olympics sports do you participate in?
Alpine skiing, Nordic skiing, Golf, Track & Field, Basketball, Soccer, Rhythmic Gymnastics and Fitness Class
What is your happiest/proudest Special Olympics memory?
Making it to the podium in the Special Olympics World Winter Games in 2017 in Austria for Alpine skiing. I won a Silver Medal. Then in January 2020, just before the pandemic, I won a silver medal in Alpine skiing in Sweden at the World Invitational Games.
How do you like to spend your time outside of Special Olympics (jobs, hobbies, activities, etc)
I work at Diply and I love my job but I cannot go right now because of Covid. I like to work out, paint, play guitar, bake, do puzzles, go for walks, write songs. That is all I can think of.
What do you love most about motionball events?
Getting to know new friends and playing the sports