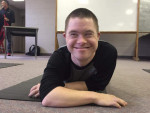 What Special Olympics sports do you participate in?
5 and 10 Pin Bowling, swimming, curling, indoor curling, rhythmic gymnastics, basketball, golf, slopitch and I did floor hockey and snowshoe when it was offered.
What is your happiest/proudest Special Olympics memory?
Going to the world summer games in Abu Dhabi in 2019 and winning silver, bronze and 8th place in 10 pin bowling.
How do you like to spend your time outside of Special Olympics (jobs, hobbies, activities, etc)
Reading and watching movies or hockey highlights on my computer.
What do you love most about motionball events?
Being active and doing things with others.