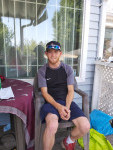 Name:
Norman
What Special Olympics sports do you participate in?
Curling,10 Pin Bowling, Track,Basketball,Club Fit, Soft Ball, Curling and Floor Hockey
What is your happiest/proudest Special Olympics memory?
Floor Hockey team made it to Provincials. Plus I like when we play against other teams.
How do you like to spend your time outside of Special Olympics (jobs, hobbies, activities, etc)
I work for City of Surrey. Like to hang out with some of the Special Olympic players. I enjoy swimming and camping.
What do you love most about motionball events?
Meeting new player's and hopefully keeping in contact with them when you finish motionball.