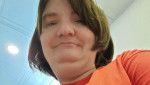 Name:
Kayla
What Special Olympics sports do you participate in?
I do 5 pin bowling rythmic gymnastics and boccee ball.
What is your happiest/proudest Special Olympics memory?
Doing the marthon of sports or anything events or fundraisers with special olympics also winning medals at my sports. Having fun and being on a great team.
How do you like to spend your time outside of Special Olympics (jobs, hobbies, activities, etc)
I love listening to shania twain music. I love doing diamond dot craft going to my program at possibilities as we do fun things like going on trip to places and other stuff like that. Doing a lot of virtual activities on zoom special olympics ontario and meeting them all.
What do you love most about motionball events?
Being on great team having fun and promoting special olympics and showing off my medals i have won for my sports and other events with motionball like gala and marathon of sports and participate in the marathon of sports.