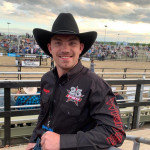 Name:
Iain
What Special Olympics sports do you participate in?
Powerlifting, floor hockey, athletics
What is your happiest/proudest Special Olympics memory?
Going to national games in Nova Scotia
How do you like to spend your time outside of Special Olympics (jobs, hobbies, activities, etc)
Work at a tire warehouse and go to prospects 2 days a week. Hang out with family and friends.
What do you love most about motionball events?
The teams