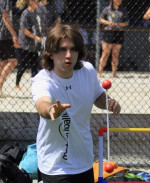 Name:
Jesse
What Special Olympics sports do you participate in?
Speed Skating and Track and Field
What is your happiest/proudest Special Olympics memory?
Winning Gold for BC in the 500m in Speed Skating at the 2020 National Winter Games in Thunder Bay
How do you like to spend your time outside of Special Olympics (jobs, hobbies, activities, etc)
I like to go skating and inline skating with my brother, and I enjoy drawing, photography, animation and playing video games. I also enjoy watching movies with friends. I am employed as an electronic product tester
What do you love most about motionball events?
I like getting together with everyone and playing sports and having fun