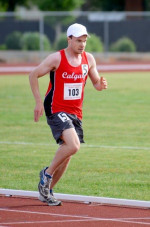 Name:
Keiran
What Special Olympics sports do you participate in?
Floor Hockey, Snowshoe Running, Athletic (long distance running), golf, downhill skiing
What is your happiest/proudest Special Olympics memory?
Gold medal at the most recent Summer Games in Nova Scotia
How do you like to spend your time outside of Special Olympics (jobs, hobbies, activities, etc)
I work full time in Building Services at Pembina Pipelines, I love to run and lots of other sports
What do you love most about motionball events?
Meeting the other athletes