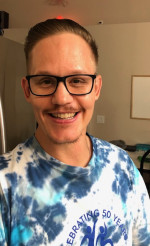 Meet a Special Olympics athlete who represents the 50,000 Canadians with an intellectual disability who participate in Special Olympics programs. Your support is ensuring athletes can get back to the playing field, and that no one is left behind.
What Special Olympics sports do you participate in?
Saskatoon Freedom Fighters Zoom Fitness, 10 pin bowling, softball, soccer, and in the past I played flood hockey!!
What is your happiest/proudest Special Olympics memory?
I am a member of Saskatoon Freedom Fighters Fitness and we just won Saskatchewan Team of the Year at the 2021 Awards Ceremony! I got to accept the award with my coaches and other athletes.
How do you like to spend your time outside of Special Olympics? (jobs, hobbies, activities, etc)
I work for Cosmo Industries 5 days a week including one day at Al Anderson's Sports, one day at SaskPower and two days doing groundskeeping at multiple businesses around the City. I love watching all sports on TV or in person when I can. I love racing Go Karts and going to Wyant Group Raceway every chance I get and watching Nascar on TV. I Dream if I ever win the lottery I would build a go kart track and a theme park for all the Special O athletes to join me having fun.
What do you love most about motionball events?
The excitement of participating with lots of people and showing what I can do!