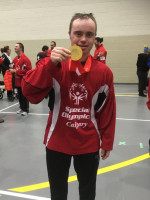 Name:
Chris
What Special Olympics sports do you participate in?
Floor hockey, golf, softball, basketball
What is your happiest/proudest Special Olympics memory?
when I got my first gold medal at the 2019 Special Olympics Alberta winter Games!
How do you like to spend your time outside of Special Olympics (jobs, hobbies, activities, etc)
I love to work out every day! I go to Prospect for program and I love movies on Disney plus
What do you love most about motionball events?
I like to hang out with people who are almost the same age as me I think that is cool