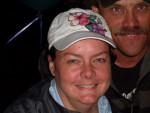 Name:
Rachel
What Special Olympics sports do you participate in?
Meeting Jamie sale Throughs figure skating I'm going to Quebec city
What is your happiest/proudest Special Olympics memory?
Gardening spending time with family Loves animals
How do you like to spend your time outside of Special Olympics (jobs, hobbies, activities, etc)
I play golf on weekends and I work at the Venturers
What do you love most about motionball events?
All