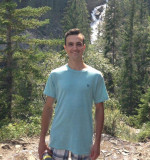 Name:
Damion
What Special Olympics sports do you participate in?
floor hockey, basketball, golf
What is your happiest/proudest Special Olympics memory?
2018 Nova Scotia Summer Olympic games
How do you like to spend your time outside of Special Olympics (jobs, hobbies, activities, etc)
golfing, fishing, biking, training for taekwondo , and working at my local golf course
What do you love most about motionball events?
Meeting the kind and friendly employees of companies, and playing in the variety of sports.