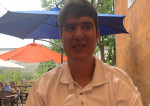 Name:
Daniel
What Special Olympics sports do you participate in?
GOLF, BASKETBALL, SOFTBALL, ALPINE SKIING, SNOWSHOE & FLOOR hockey
What is your happiest/proudest Special Olympics memory?
Participate in the Alberta Winter games & Having a full day of sports activities and meet new friends
How do you like to spend your time outside of Special Olympics (jobs, hobbies, activities, etc)
Playing piano, guitar, singing and painting.
What do you love most about motionball events?
Meet new friends