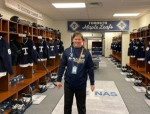 Meet Peter a Special Olympics athlete who represents the 50,000 Canadians with an intellectual disability who participate in Special Olympics programs. Your support is ensuring athletes like Peter can get back to the playing field, and that no one is left behind.
What Special Olympics sports do you participate in?
Basketball, Alpine Skiing, Swimming and Baseball
What is your happiest/proudest Special Olympics memory?
Competing in our annual Stingers Basketball Tournament.
How do you like to spend your time outside of Special Olympics? (jobs, hobbies, activities, etc)
I work for the Toronto Maple Leafs with the equipment staff. I love to play golf and paint pictures with watercolors. This summer I will be working at Camp Ekon and my job will be assistant director of the whole camp!
What do you love most about motionball events?
Motionball is my favorite event of the year. I love how the Motionball teams are so upbeat and kind to all of the Special Olympics athletes. This year it will be nice to see my Motionball and Special Olympics friends in person again!