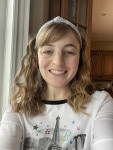 Meet Taylor, a Special Olympics athlete who represents the 50,000 Canadians with an intellectual disability who participate in Special Olympics programs. Your support is ensuring athletes like Taylor can get back to the playing field, and that no one is left behind.
What Special Olympics sports do you participate in?
Figure skating, track and field
How do you like to spend your time outside of Special Olympics? (jobs, hobbies, activities, etc)
I have an Instagram page called taylors_travels_canada1 that shows other people with intellectual needs and developmental disabilities that anything is possible. I hope my pictures encourage others to want to travel and discover the wonders of our special planet. My goal is to raise awareness and promote inclusion for people with special needs.
What do you love most about motionball events?
I get to meet new people from all over the place. I love to do my best at competitions and travel especially to Provincial and National games. It is awesome to walk into an arena or onto a track and be greeted by fellow competitors with a hello and sometimes a hug.