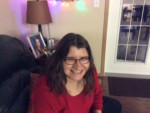 Meet Kimberly, a Special Olympics athlete who represents the 50,000 Canadians with an intellectual disability who participate in Special Olympics programs. Your support is ensuring athletes like Kimberly can get back to the playing field, and that no one is left behind.
What Special Olympics sports do you participate in?
I participate in floor hockey, basketball, soccer and bowling.
What is your happiest/proudest Special Olympics memory?
I got to go to Vancouver one time with Team Manitoba on my basketball team and even got a basket.
How do you like to spend your time outside of Special Olympics? (jobs, hobbies, activities, etc)
I like to go out for karaoke, listen to music, play scrabble and spell words.
What do you love most about motionball events?
I love the fact that we get to play different kinds of sports and games all day and that I usually get lots of playing time.