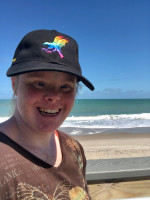 Name:
Caitlin
What Special Olympics sports do you participate in?
Swimming
What is your happiest/proudest Special Olympics memory?
Going to Nationals
How do you like to spend your time outside of Special Olympics (jobs, hobbies, activities, etc)
Hanging with my sister Christine and her dog Henry, going to TIFS (a program for independent living), eating out, watching movies, visiting friends and fam
What do you love most about motionball events?
The camaraderie