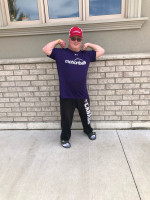 Name:
Matthew
What Special Olympics sports do you participate in?
Basketball, Softball, Golf, Bocce & Soccer
What is your happiest/proudest Special Olympics memory?
Meeting all the new athletes in my new community and be accepted.
How do you like to spend your time outside of Special Olympics (jobs, hobbies, activities, etc)
Found the love of cooking with zoom with Chef Anthony helping my mom and colouring watching TV all sports
What do you love most about motionball events?
Enjoy meeting my team mates and showing off my skills LOL!