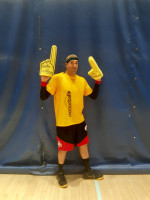 Name:
Jeffrey
What Special Olympics sports do you participate in?
Basketball, Floor Hockey, Swimming, Softball and Kayak
What is your happiest/proudest Special Olympics memory?
Meeting new people and have an opportunity to be part of motionball.
How do you like to spend your time outside of Special Olympics (jobs, hobbies, activities, etc)
Do volunteer work and DJ!
What do you love most about motionball events?
To play all sports. I love sports