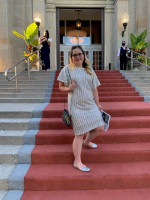 Name:
Ruby
What Special Olympics sports do you participate in?
Soccer softball golf curling rhythmic gymnastics basketball!
What is your happiest/proudest Special Olympics memory?
Playing soccer for the special Olympics Ontario unified team at BMO field.
How do you like to spend your time outside of Special Olympics (jobs, hobbies, activities, etc)
Volunteering at our local thrift store, word searching, colouring and hanging out with my dog
What do you love most about motionball events?
Seeing all my friends!