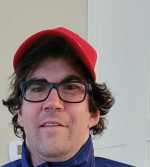 Name:
Mike
What Special Olympics sports do you participate in?
Curling and Golf
What is your happiest/proudest Special Olympics memory?
Having fun & being a team player
How do you like to spend your time outside of Special Olympics (jobs, hobbies, activities, etc)
Walking / working out / reading
What do you love most about motionball events?
Enjoying meeting new friends