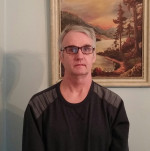 Name:
Robert
What Special Olympics sports do you participate in?
Floor Hockey, Softball and Swimming
What is your happiest/proudest Special Olympics memory?
Going to the Canadian championships in Vancouver to watch my brother and girl friend compete in bowling.
How do you like to spend your time outside of Special Olympics (jobs, hobbies, activities, etc)
Going to walks and watching the Blue Jays and Maple Leafs on TV
What do you love most about motionball events?
All the different sports!