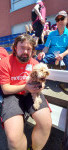 Name:
Tomas
What Special Olympics sports do you participate in?
Basketball and swimming
What is your happiest/proudest Special Olympics memory?
Ontario swimming time trials and the friendly basketball tournaments
How do you like to spend your time outside of Special Olympics (jobs, hobbies, activities, etc)
Dancing, building Lego, doing puzzles, painting and art work.
What do you love most about motionball events?
I really like the team spirit and having fun together.