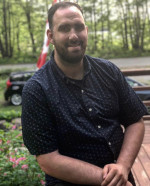 Name:
Ryan
What Special Olympics sports do you participate in?
Softball and Basketball!
What is your happiest/proudest Special Olympics memory?
Winning my first National gold medal in front of family and friends in 2018
How do you like to spend your time outside of Special Olympics (jobs, hobbies, activities, etc)
Hanging out with friends, golfing, and doing a few side jobs that keeps me interactive
What do you love most about motionball events?
Being able to meet others who are first time motionballers and new or existing sponsors so we as athletes, can share our story and thank them for the impact they are leaving with their support!