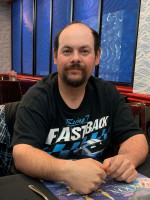 Name:
Charles
What Special Olympics sports do you participate in?
5 pin bowling, 10 pin bowling, basketball, floor hockey, track and field, baseball
What is your happiest/proudest Special Olympics memory?
When I went to Abu Dabi and represented my country
How do you like to spend your time outside of Special Olympics (jobs, hobbies, activities, etc)
I do lego, electric trains, go to Sunset Speedway. I work at No Frills and have worked there for 18 years.
What do you love most about motionball events?
I love meeting up with old friends and meeting new friends.