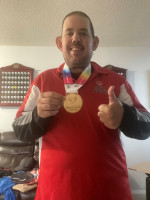 Name:
BJ
What Special Olympics sports do you participate in?
Golf and curling and mentor basketball
What is your happiest/proudest Special Olympics memory?
Carrying the olympic torch and winning gold medal for golf in Nashville 18 holes
How do you like to spend your time outside of Special Olympics (jobs, hobbies, activities, etc)
Fishing camping listing to music video games hanging out with friends work at a café and a driving range in the spring and summer time
What do you love most about motionball events?
Everything from playing the sports to meeting new people