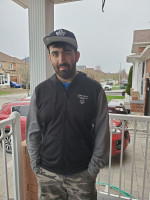 Name:
Joseph
What Special Olympics sports do you participate in?
Bowling, floor hockey, basketball, athletics, baseball!
What is your happiest/proudest Special Olympics memory?
This was in Italy 2017 to represent Team Canada for Bocce in World Games.
How do you like to spend your time outside of Special Olympics (jobs, hobbies, activities, etc)
I like to travel, listen to music, movies and play video games.
What do you love most about motionball events?
Meeting new friends and having fun!