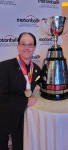 Name:
Troy
What Special Olympics sports do you participate in?
Golf, bocce, curling and alpine skiing
What is your happiest/proudest Special Olympics memory?
Being the first Canadian athlete to be chosen to be on the Torch Run Council. I have been with motionball since it started!!!! Played with motionball in the Dome!!! have met many Friends and pro athletes through motionball international Global messenger. I was the first athlete to be on the international Torch Run council
How do you like to spend your time outside of Special Olympics (jobs, hobbies, activities, etc)
Skiing and golfing with family and friends
What do you love most about motionball events?
Meeting and talking with people and telling them all about my fellow athletes and what we are cable of doing!!!