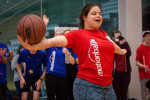 Name:
Nicole
What Special Olympics sports do you participate in?
Figure skating, rhythmic gymnastics, swimming, and golf!
What is your happiest/proudest Special Olympics memory?
My proudest moment is this year at the Figure Skating Provincials, winning a Gold Medal in Level 3 Free Skate and Silver in Level 2 Solo Dance. I'm also Happy to that I Qualify to go to the 2024 Provincial games for Rhythmic Gymnastics. Another Very memorable event is skating in the Rock the Rink Tour with Scott Moir and Tessa Virtue on Nov 6 - 2019 in Mississauga.
How do you like to spend your time outside of Special Olympics (jobs, hobbies, activities, etc)
I attend School at a Continuing Education Program 2 days a week. I train at home on my days off plus running to keep fit. I also like to spend time writing in my workout journal.
What do you love most about motionball events?
Right now, I love the motionball Zoom Calls every Friday, to see and have fun talking to everyone. I have made new friends in this group."